How to Buy a SensaCalm Weighted Blanket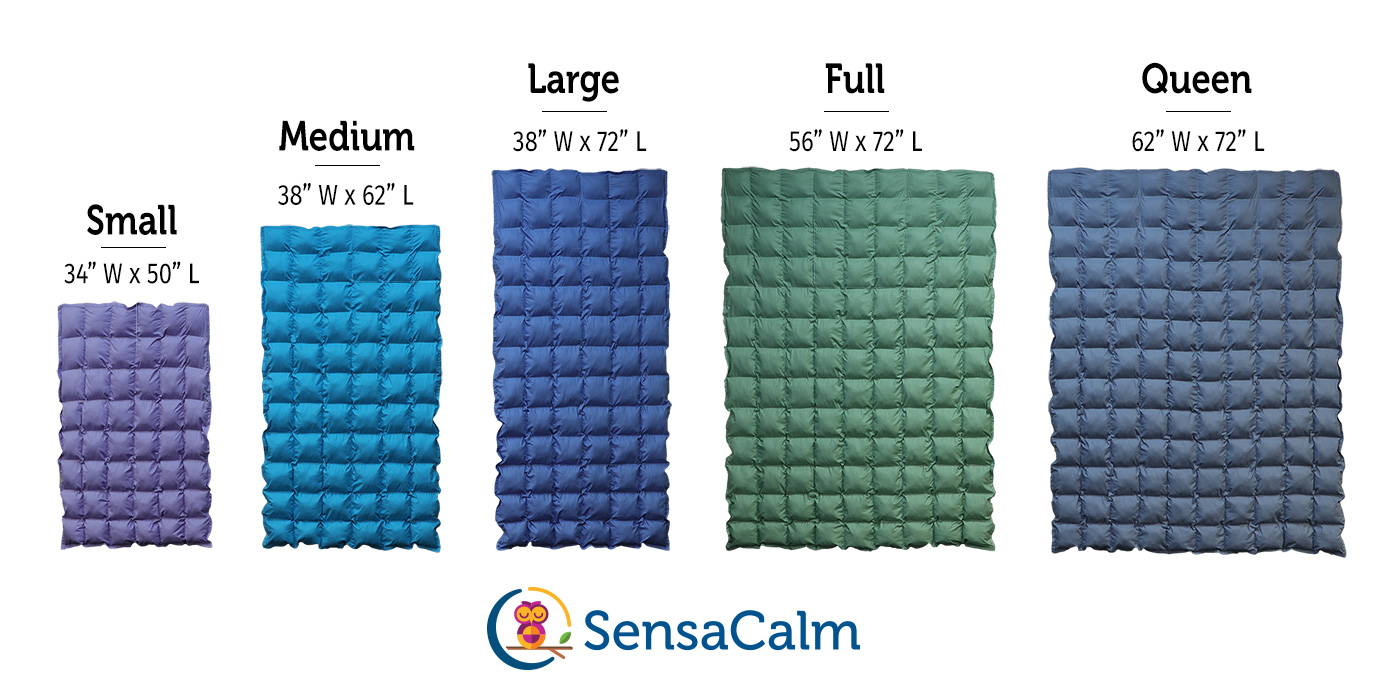 What size to choose...small, medium, large, full or queen, or king?
Weighted blankets are made to fit the BODY and not the BED. The blanket should lay on top of the bed without hanging over the sides. Because the blanket is weighted, if it hangs over the sides, you will spend the entire night fighting to keep it from sliding into the floor. You can use a regular blanket for "looks" during the day, keeping your weighted blanket folded at the bottom of the bed. Or you can bring out your weighted blanket only at bedtime.
Below is a photo of a full-size blanket laying on top of a bedspread to show how it doesn't hang over the sides. If it hung over the sides it would keep you busy all night long fighting to keep it from falling all the way off!
As you move through the website, you will choose fabric, then size, and then you will be presented with the weight chart to help you choose size. Please keep in mind the chart is just a suggested guide, the suggested weight won't be right for everyone. We are also not medical professionals.
There are five sections of blankets on the website.
How to customize your blanket:
If you go under custom, you will see several fabric options: Cotton, cuddle, waterproof. You can also get reversible with cotton on one side and cuddle on the other, which is very popular. To do this, choose your cotton fabric first.
It is important to remember that our suggestions are just a guideline. These suggestions won't work for everyone. Some people will find they want it much heavier, some will want it lighter. We do offer a liberal Return Policy and we are happy to assist you in finding just the right blanket for you. We are here to make you happy and hopefully help you rest!
Another option is to request NO POLYFIL in your blanket. This will make your blanket flat and much like a quilt, since there will be no pillow stuffing, just the glass beads for weight. If you are very hot natured or live in a very warm climate, you may choose no polyfil. However 90% of our blankets sold have the polyfil in them, and most people do not find them any warmer than their regular blankets. IWehave had a lot of comments from parents that said their children liked the polyfil because it makes it look more like a regular blanket and not a therapy blanket.
Cuddle Fleece option as a backing- this is a very soft fleece that is especially good for people who are sensory seekers or just like their blanket to be extra soft. The Cuddle will be on the back and the trim of the blanket and looks very nice.

If you are ordering a child or pattern fabric we will choose the matching Cuddle for that blanket.

If you are choosing a Supreme Solid fabric you will be given your option of color. We do not offer the Cuddle in the Gallery Section because most of the colors clash together and you can't see that from the website. If you would like this anyway give us a call and we will put it in as a special order. If you are buying a blanket for yourself or for someone else that is hot natured or lives in a hot climate you want to stay away from the option of the Cuddle fleece. Fleece naturally makes the blanket warmer and while it is very soft if you get really hot at night you want to steer clear of this fabric.
The snaps are for our Duvet Covers that you can buy to go over your blanket. We use the snaps because it holds the weight of the blanket without ripping the seams like a tie on would do. Having a Duvet Cover will cut down on the washing of your weighted blanket and is well worth the extra cost.
The pillow case is a nice extra option if you like your bedding to match and you have ordered one of our pattern or child prints and are not likely to find a pillowcase around your house that matches your blanket. The pillowcase will have Cuddle on it also if you have chosen the Cuddle backing option for your blanket. Pillow cases only come in standard size.
Monogramming is great for companies, hospitals, and other companies to keep track of where each blanket belongs. Of course parents and children love this option also since it personalizes the blanket for the person using it. Just remember that once this blanket has been monogrammed it is non-returnable.
Who are you buying for?
We have many orders for the elderly and from the feedback I have gotten it is important to remember that bigger is not better. Most of the elderly like the Small size blanket in the 5-8lb range. This is a great one to use just in a chair or on the couch for them to lay over their legs. If you do order a blanket for them to use in bed, please make sure to go a couple pounds down from the weight guideline. I would not suggest anything over the Adult size 12-15 lb for any elderly person. And nothing above a 10-12 lb in the Medium size. If you have any questions just give us a call.
Size Small approx. (34x50)

DO NOT BUY A WEIGHTED BLANKET FOR ANY CHILD UNDER 1 YEAR OLD

The first thing you want to know about buying for your toddler is, you want the blanket that would best fit them and not the bed. Our Small size is approximately (34x50) and this is what I would suggest for a toddler. It fits a toddler bed mattress without hanging over. It can fit children between the ages of 1-5 years old. Please use our weight guidelines when deciding on the weight to get for your young child and make sure they can remove the blanket on their own without assistance. If your child is especially sensory seeking you may want to consider adding the Cuddle fleece option to this blanket. It is very soft, and is a huge hit with children and adults alike.
Size Medium approx. (38x62)

The first thing I would like to address is the size of blanket appropriate for children of this age. 6 years - 12 years. A lot of people believe that they need to buy a blanket to fit their child's bed, an understandable option, but let me tell you why that is not the case with a weighted blanket.

Our sizes are not normal blanket sizes. Our blankets are made to fit the person and not the bed, the reason for this is that it has been shown to work better if you get the blanket made to fit your body. Also our blankets are made so that they will NOT hang over the edges of your bed AT ALL. If they hang over, the weight will slowly pull the blanket off of your bed and instead of getting the rest that you need you will spend your night pulling that blanket up on the bed over and over and over.

Use our weight guidelines when picking your blanket. It's okay to round their weight up to the nearest 10 lb mark. (54 lbs = 60 lbs)

Example:

Your child is 54lb. Medium 7lb is for a 50lb user Medium 8lb is for a 60lb user

You may want to go with the Medium 8lb since they are already over the weight for the 7lb. There is not a huge difference of pressure in these 2 blankets, but always listen to how your child feels about the weight of the blanket. If at any point they say it is uncomfortable take it off. If you stay within our guidelines this should not be a problem.
Large size (38x72)

Adults dealing with different things such as sensory disorders, adhd, anxiety, insomnia, restless legs, and so on are comfortable with different amounts of weight.

One note I would like to add is that the weight guidelines were originally for people with sensory disorders and that is the reason I think many people who just have anxiety, insomnia, and things like this do not need that extra weight. The Adult 18lb is our most returned blanket, and the reason is most always that it was too heavy for the person.
-many people with autism crave that extra sensory input, and may use a heavier weight than the recommendation.
Men often find that the Large size is too narrow for them. I often tell men to go up to the next size which is a Full approx. (56x72) and I have never had a complaint about that size.
Women seem very satisfied with the Large size blanket. The only complaint we have had is as listed above about too much weight. Except, if their well meaning husband/ boyfriend pick out the fabric and they do not like the color :-)
Blanket size options
Small size blanket: Approx. 34" x 50"
The small blanket is good for toddlers, it is the size of a toddler bed mattress. Some children can use this size up to 6 years old. If your child is over 5, though, I would purchase the medium size.
Medium Blanket: Approx. 38"x 62"
Works well for youth between the ages of 5-12. Can also work for very petite adults.
Large Blanket: Approx. 38" x 72"
A good size for most women and teenagers. Larger sized men or women may prefer the full size.
Full size blanket: Approx. (56x72)
It is important to remember that the size of our "Full" size will not be like your regular comforter. You can always measure across your bed to see how it would lay. This blanket should only cover the top of the bed and never hang over the edges.

You can find these under Gallery and Supreme Solid fabrics.

We do not offer them in patterns because we have to piece together the 2 yards of fabric and it is sometimes hard to line them up perfectly. However if you have your heart set on this size and one of our other fabrics, just give us a call and we will make it happen.
Queen size blanket: Approx. (64x72)
The Queen 40lb for 200lb+ user.This size and weight is returned at least 70% of the time. This blanket is so large and so heavy that most people find it too much to manage. Some even said it made them feel claustrophobic.

If you have your mind set on the Queen size I would not recommend anything over our Queen 30 lb unless you have already used this weight before and know that you are good with it. . The other sizes are rarely, if ever returned. You can find this size in Gallery or Solid Supreme fabric. We do not offer them in patterns because we have to piece together the 2 yards of fabric and it is sometimes hard to line them up perfectly. However if you have your heart set on this size and one of our other fabrics, just give us a call and we will make it happen.
King size blanket: Approx. 76" x 80"
We now offer king size as well, and everything applying to queen (above) also applies to the king.